THE ROFF R-70 MAIZE MILL:
4 to 5 tons per hour
Class-leading profitability
The R-70 compact, all-in-one mill is a true reflection of Roff's commitment to building simple, high-quality milling machines that are a cut above the rest. It's perfect for the entrepreneur planning to enter the maize meal market with a milling capacity of up to 120 tons of maize per day. Simply provide a building, water and an electrical supply and you are set to go. What's more is that its compact layout also makes monitoring during operations, and maintenance, a breeze.

The R-70 Maize Milling Plant ensures an extraction rate of between 70% and 74%* (Super/Grade 1), well above the industry norm of 65% - 70% (Super/Grade 1)**.

*Maize quality dependent
**Country dependent
Optional Double conditioning = more profit
The double conditioning results in higher moisture in the final product. While single conditioning is acceptable for quality purposes, less moisture in your final product will negatively impact weight, which in turn negatively impacts your bottom line.

Video: The Miltec success story
Video: The Buffalo Millers success story
What our clients have to say
"The Roff machine is what gives us an edge in the market. It gives us exactly what the customer wants."
Evans Killy, Owner Buffalo Millers, Kenya
This 4 - 5 ton per hour mill comes equipped with control panels and level sensors to manage the flow of product.
Maintenance floors, emergency stops and ground floor lights for increased safety and visibility. Low electricity consumption at full load.
MAINTENANCE MADE EASY
Visits can be scheduled with trained and qualified Roff technicians for regular maintenance. The R-70's built-in maintenance floors make maintenance a breeze by providing technicians with enough space and easy access to different sections of the mill.
Shipping
Yes, we ship to all countries in Sub-Saharan Africa and other African countries.
It depends on where you are and how many orders we have in our queue, but the R-70 can normally be shipped in 4 - 6 months from order. Delivery details will be confirmed on order.
Training
Yes, we give introduction training during commissioning
No, the mill was designed so that a technically-minded person could operate and maintain it.
Payment Options
No, but we will provide you or your lender with all the information needed.
Any other questions?
If we still haven't answered your question, you can contact us below and we will get back to you as soon as possible.
Maize Milling Gross Profit Calculator
Gross Profit: 0.00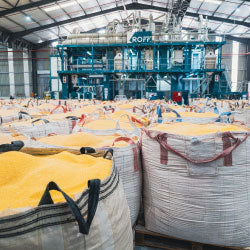 Are you looking for bigger capacity or perhaps a grit mill?
Roff's C-80 mill has many class-leading attributes… like an exceptional extraction rate and scalability as well as the option to have it set up as a grit mill.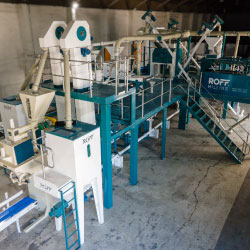 Need smaller capacity?
Boasting the same class-leading extraction rates that have put the Roff C-80 and Roff R-70 in a league of their own, the new Roff R-40 compact maize mill is definitely worth considering.