THE ROFF POSHO MILL
Roff's Posho Mill, the ideal compact maize mill for community milling.
Roff's innovative Posho Mill is expertly designed for successful service or community milling. Join the ranks of entrepreneurs providing an invaluable service to their local communities while generating a profitable income. The Posho Mill is the easiest way to manufacture quality maize meal with its durable, compact design, simplified roller milling technology and hard work ethic.
What our clients have to say
Godfrey Kou - Godfrey is the son of the late George Kou, who started his relationship with Roff in 1994 when he bought his first Roff machine, a MK1 Roller Mill (an early type of Posho mill). Today, most of the mills at Godfrey's 70 sites across Lesotho are Roff mills.
"If customers can get their maize meal cheaper anywhere else, they will go for it. Our meal is a lot more affordable than the pre-packed products," says Godfrey Kou.

"Roff Industries has been very much a part of our success."
Jerry Ntsekhe - Aware of how hunger threatened to ravage his country, Jerry Ntsekhe wanted to give something back to his fellow countrymen and make a difference. So upon his retirement in 2018, he took up community milling.
Says Jerry."Maize is the basic food that every household has in this country at any given time. Without it, people are facing terrible hunger." 
Jerry received plenty of advice from his cousin, the Honourable Mahala Molapo, Lesotho's Minister of Agriculture. Mahala also put Jerry in touch with Roff, being a long-standing client himself.
Video: Posho success stories
Video: Posho features and benefits
Shipping
Yes, we ship to all countries in Sub-Saharan Africa and other African countries.
Normally we can ship it in less than 7 days from order. Delivery details will be confirmed on order.
Training
Yes, we give introduction training during commissioning
No, the mill was designed so that a technically-minded person could operate and maintain it.
Payment Options
No, but we will provide you or your lender with all the information needed.
Any other questions?
If we still haven't answered your question, you can contact us below and we will get back to you as soon as possible.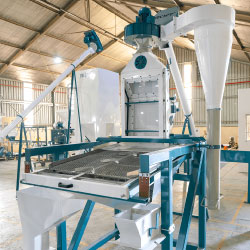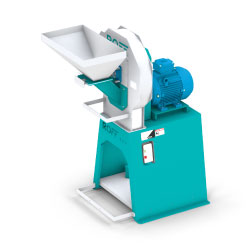 LOOKING FOR SOMETHING SMALLER?
Browse our collection of hammer mills in the Roff online shop in the convenience of your own home… We deliver!