THE ROFF C-80 MAIZE MILL:
5 tons/hour
The flexible commercial system
Roff's C-80 Maize Mill allows you to produce 5 tons of maize meal per hour. Sophisticated computer systems allow you to monitor and review capacity and extraction rates in real-time, and adjust settings as needed. Complete control means less downtime, more productivity, and more profits. The C-80 is also versatile, capable of producing two grades of maize meal, or as a grit plant.

Think compact, efficient design housed in multi-story frames featuring dust extraction and an offal collection line, and a milling capacity that will enable you to achieve success.
"Profitable extraction rates, performance data and back-ups, were key in selecting the C-80 maize mill." - Carl Crous, Supa 7 Milling
Video: C-80 5 ton/hour compact maize mill
Low dust emissions
Enclosed mini sifters, pneumatic conveying on roller mills and degerminator, as well as aspiration/ventilation on bucket elevators and the maize receiving bin, result in zero dust emissions.
MAINTENANCE MADE EASY
Visits can be scheduled with trained and qualified Roff technicians for regular maintenance. The C-80's built-in maintenance floors make maintenance a breeze by providing technicians with enough space and easy access to different sections of the mill.
Shipping
Yes, we ship to all countries in Sub-Saharan Africa and other African countries.
It depends on where you are and how many orders we have in our queue, but the C-80 can normally be shipped in 6 - 8 months from order. Delivery details will be confirmed on order.
Training
Yes, we give introduction training during commissioning
Yes, operators with experience is recommended due to the more complex process of a conventional mill.
Payment Options
No, but we will provide you or your lender with all the information needed.
Any other questions?
If we still haven't answered your question, you can contact us below and we will get back to you as soon as possible.
Maize Milling Gross Profit Calculator
Gross Profit: 0.00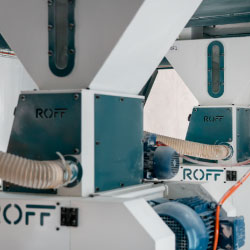 THE ROFF R-70 MILLS 5 TONS PER HOUR
Roff's turnkey compact R-70 mill could be the competitive advantage you need, with above-industry average extraction rates, and a 120-ton per day capacity.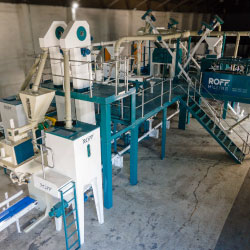 THE NEW R-40, 2 - 3 t/hr maize mill
Boasting the same class-leading extraction rates that have put the Roff C-80 and Roff R-70 in a league of their own, the new Roff R-40 compact maize mill is definitely worth considering.